When you sign up for a simple web hosting, you are sure to buy a limited block of resources on a single server. For instance, 5GB web space, 1TB bandwidth and maybe a set amount of RAM and CPU cores.
Of course this will work for many websites but fixed resources can hit badly to larger projects. You would find no way to temporarily allot extra RAM or bandwidth in case you have heavy traffic on your website. Moreover, a simple plan upgrade will also need your website to stay offline for some time.
Cloud hosting plans mostly appear similar to cheap VPS hosting where you need to initially pay for a limited amount of web space, RAM, CPU time and bandwidth. But these resources are distributed across several devices rather than a single one. So, you can upgrade later on for increased RAM as it is similar to dragging a slider for getting the extra power online just within moments.
This type of flexibility is highly beneficial to deliver extra power when it is required the most and its starting prices are almost similar to VPS hosting. No doubt the costs will increase as you increase the resources but particularly you will only pay for the time in which you are using the resources.
Not everyone can opt for cloud hosting because small, simple websites can work better with regular packages. However, it has a lot to offer anyone that is working on larger or highly ambitious projects.
You will find lots of hosting providers out there right now that offer cloud web hosting services. But not every cloud plan is the same.
There are several cloud hosting providers and plans offered and so selecting one is quite difficult. Therefore, take a look at these top 5 cloud hosting providers of 2020 and select the best one.
MilesWeb
MilesWeb offers two types of managed cloud hosting services: AWS managed cloud and managed DigitalOcean hosting. So, they are perfect for websites that want to focus just on their business growth rather than investing time in managing the servers and other technical tasks.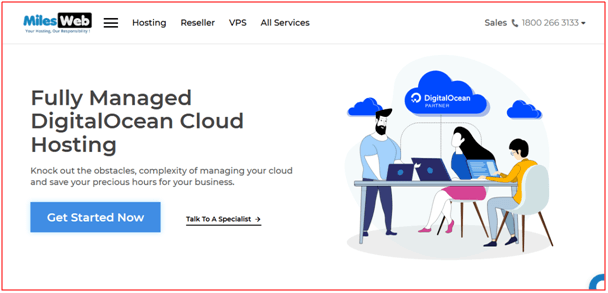 Thus, by offering managed services for both the tech giants AWS and DigitalOcean, they allow to completely concentrate on building growth strategies for your business.
Their certified team of AWS experts and system admins take the complete charge of your cloud server and safeguard them. This saves your time and energy for managing it on your own. All the daily operations of your server as well the maintenance is taken care of their experts so that the server runs smoothly.
All your files are constantly monitored for avoiding threats as well as data is backed up on daily basis for data loss prevention. Your server's software is kept up to date by the installation of timely updates.
Their team is available 24/7 to help you in resolving any issues that occur.
AWS Managed Cloud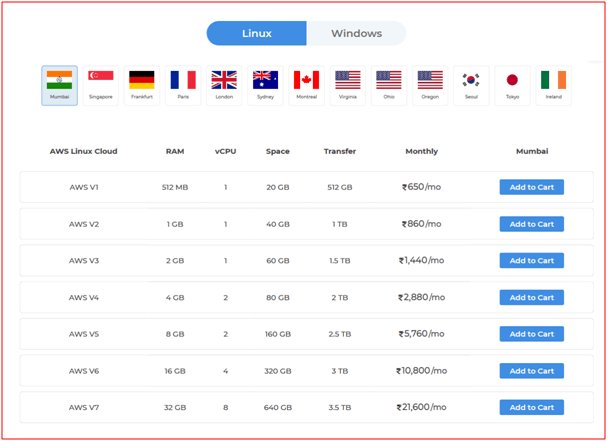 Managed DigitalOcean Cloud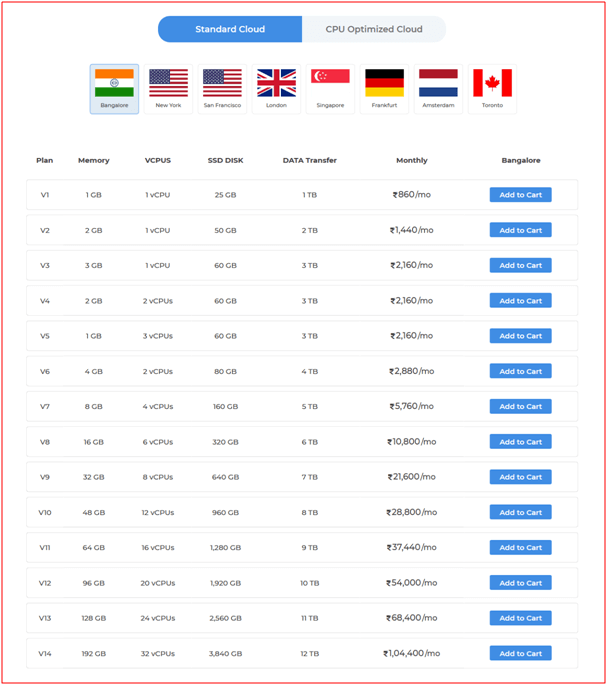 Apart from these features, you can always migrate your AWS cloud or DigitalOcean cloud to MilesWeb at free of cost. Additionally, they allow you to select your preferred server location from various options as seen in the screenshots.
DreamHost
If you are looking for the easiest cloud setup, DreamHost should be your destination. They help to make your cloud servers live in less than 30 seconds. Due to this, DreamHost cloud is best for developers.
Their server options are developed for web apps, databases and running tests in addition to websites.
It possible to continue working with DevOps tools are you are already using. You also get full root access for getting complete control over your cloud server.
DreamHost offers you the feature of pay per use, it means you need to pay only for the resources you actually use. Charges are allotted on hourly basis depending on your server size.
DreamCompute Plans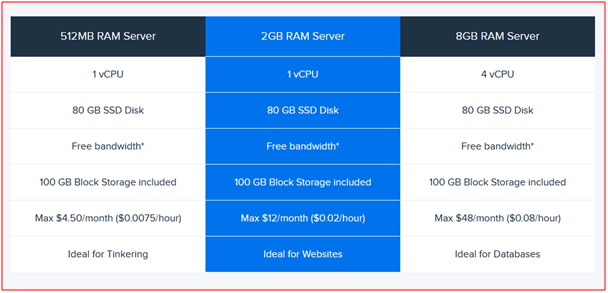 The option with 2 GB server is the most recommended option for websites.
When you sign up for their plans, you won't be charged. Rather, you will be charged depending on your monthly usage of resources.
The only thing that is non-beneficial about them is their customer service. Their customer support team is available via live chat or email daily only for 16 hours. So, in case you need the support in the midnight, you are unlucky until the morning.
A2 Hosting
A2 Hosting is high recognized for being one of the fastest web hosting providers in the market. Even their cloud plans are just as fast and reliable.
Their cloud plans are fully customizable depending on your needs.
Plans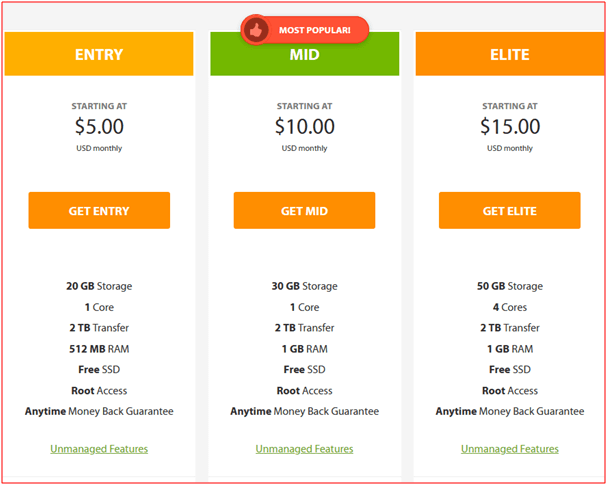 However, you only pay for the resources that you use depending on your configuration of cloud servers.
For cPanel, you need to pay extra per month and it is not available with the lowest-tier pricing plans.
They offer 99.9% uptime as well as anytime money-back guarantee.
Since customer support is highly important then you will surely be satisfied with their 24/7/365 Guru support team.
So, they are ideal for those who require unmanaged cloud hosting with lightening fast page loading speed.
Conclusion
Cloud hosting is the best option for growing websites. If your hosting plan can't fulfil your website needs then you should for sure consider switching to cloud hosting.
So who is the best cloud hosting provider? It depends on your requirements.